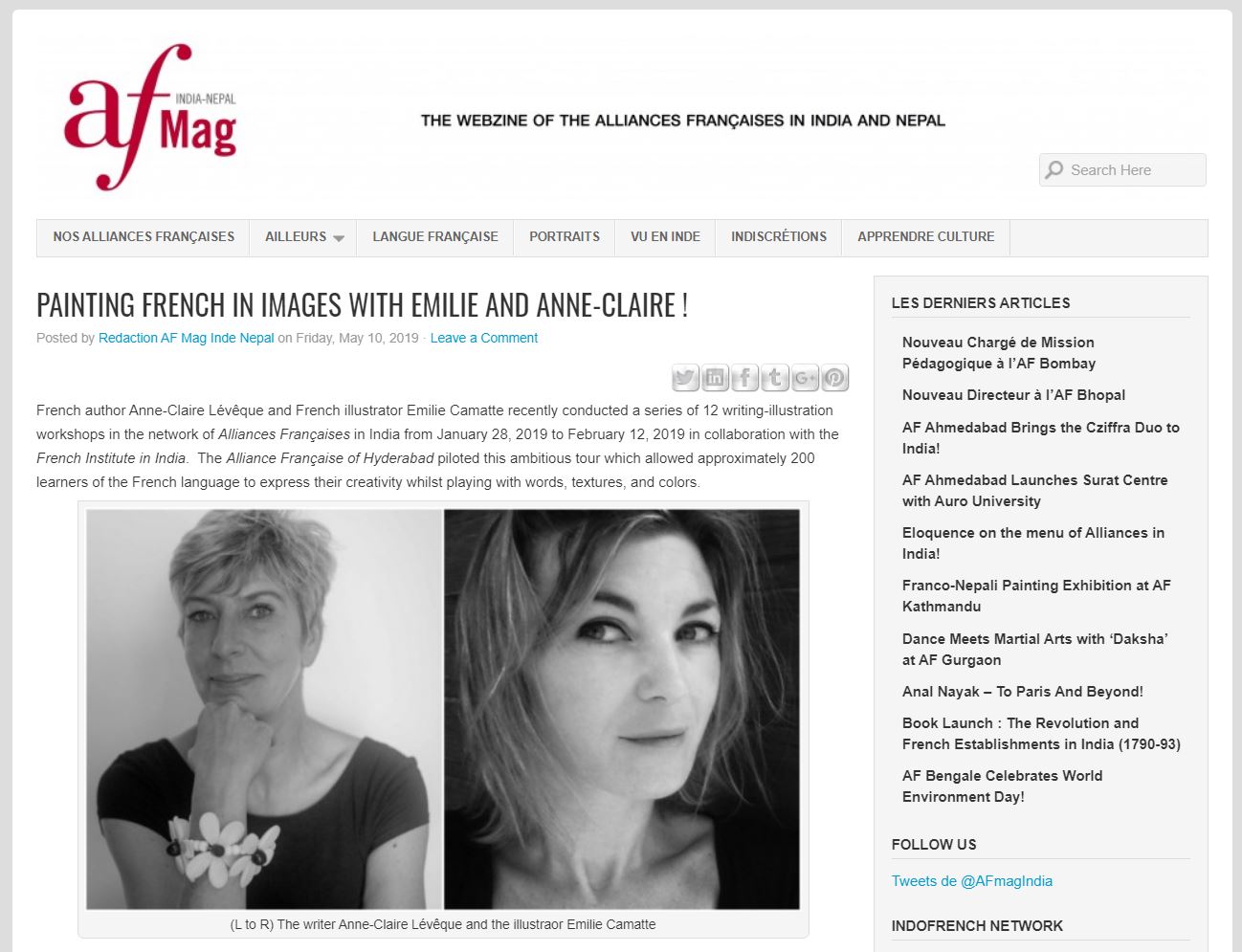 Painting french in images with Emilie and Anne-Claire !
French author Anne-Claire Lévêque and French illustrator Emilie Camatte recently conducted a series of 12 writing-illustration workshops in the network of Alliances Françaises in India from January 28, 2019 to February 12, 2019 in collaboration with the French Institute in India.  The Alliance Française of Hyderabad piloted this ambitious tour which allowed approximately 200 learners of the French language to express their creativity whilst playing with words, textures, and colors.
8 Alliances Françaises and their partner schools worked on the theme of French expressions and 4 partner schools of the French Institute in India chose the topic of sustainable food. Under the able guidance of Anne-Claire Lévêque and Emilie Camatte, the participants got inspired by their own experience and by the books written or illustrated by the two artists. The resulting is now available and consists of a compilation of the best stories and drawings by all the participating groups. The publication is a shining example of how the language can be learnt in a fun environment which fosters intercultural exchanges and mutual understanding.
The workshops are a testament to the patience, affability, and sense of humour of Emilie and Anne-Claire. The project also brought together different teams in the Alliances Françaises in Hyderabad, Bombay, Bangalore, Calcutta, Delhi, Chandigarh, Madras, and Pondicherry along with the Attachés for Cooperation for French in the French Institute in India and the Embassy of France in India. The resulting book is a labour of love which would not have been possible if wasn't for all the participants, teachers, and students who shared their love for French with so much inspiration! More information about the workshops can be found on this link.
A clip of a workshop in progress at the French International School of Mumbai, conducted on Jan 29, can be found below :

Aude Emeline Loriot Nurbianto
Director, Alliance Française of Hyderabad